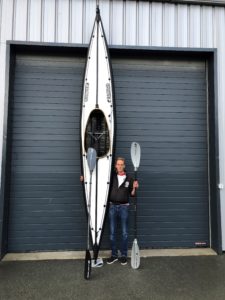 On 24th of August 2019, Adrien Clémenceau will reach Moscow and meet with the organization "National trails of the Russia" to undertake the path on Volga river, the longest in Europe. The russian river flows from Valdaï's hills, at the North West of the capitale city, on 3 600 kilometers, to Astrakhan and the Caspian Sea. This is an adventurous and geographic project, which will allow Adrien and his team mate Kirill Aristov to cross a considerable part of the country to communicate about natural protected areas, to inquire about hydroelectric dams and rise awarness about the potential threats on the river. Later, a travelguide underlining the itinerary could be shared with future kayakists.
The main cities on the route are Rzhev, Tver, Rybinsk, Yaroslav, Nizhny Novgorod, Cheboksary, Kazan, Samara, Saratov, Volgograd and Astrakhan.
During this journey, Adrien will sail in a Narak 460 built by the French constructor Nautiraid and will paddle with Select Xtrek and XTR.